Breastfeeding Struggles and Triumphs: A Mother's Journey to Find Support and Success
Breastfeeding may be both cheap and beneficial for your baby, but it's not always easy – and mothers need some support to do it, says mum-of-three Toni Bashinsky. Here, Toni gets real about the ups and downs she experienced until she chanced upon The Thompson Method.
Before she had her first child at the age of 25, Toni Bashinsky had always imagined that breastfeeding would be a doddle.

The Maine-based mother pictured feeding her firstborn, a daughter, with no drama as she gently fell asleep in Toni's arms.
But what actually happened was a far cry from Toni's reverie. "One of the troubles I had with my first child was undiagnosed tongue and lip ties, and at the time I didn't really know much about either.

"On day three of my first breastfeeding journey, the midwife gave me a nipple shield. I knew that it wasn't something I wanted to continue using for a long time, so I thought 'Well, I'll just use it for a few months and wean my daughter off as fast as I can.' And that's exactly what I did when she was around four months old.
"I kept breastfeeding until my daughter was two and a half, but that was really because I felt internal pressure from myself to continue doing so. I wanted to be the kind of mum who could get through anything for my child, so I'd say that it was my sheer determination to breastfeed that got me through."

Fast forward five years and Toni gave birth to her second child, a son. "This time around, I knew about tongue and lip tie so, right away, I thought 'I'm going to get this baby evaluated by a paediatric dentist', and that's what I did," shares Toni.

"On his tenth day, we had a lip and tongue revision, but the side effects – like the swelling – weren't explained, and it took six weeks for my son to regain full oral function.

"After that, I was able to breastfeed, and I didn't have a supply issue – if anything there was an oversupply and I ended up donating to a lot of babies as I have always been able to make a lot of milk!

"But I struggled with positioning. It just wasn't something that was ever taught or mentioned. And so, my husband and I decided to change our strategy for the birth of our third baby, a boy, who was born in December 2022.

"Yes I had, against the odds, managed to nurse my son until he was two and a half and my daughter until she was three, so I wasn't new to breastfeeding. But I knew I needed to do something new because our journeys had started off badly."

It was while perusing the internet for advice that 35-year-old Toni came across The Thompson Method. She explains: "The program really made sense to me. The Thompson Method touched on how important positioning is and how trusting the instincts of your baby is where you gain success, and I just thought, 'Yes, that's right.'

"I think that is where most women fall short with breastfeeding: trusting their instincts. Everything Dr Robyn said – why we need the 'three golden hours' – resonated with me."
Long story short, Toni joined the growing number of women signing up for The Thompson Method and went on to have a fantastic final pregnancy and birthing experience.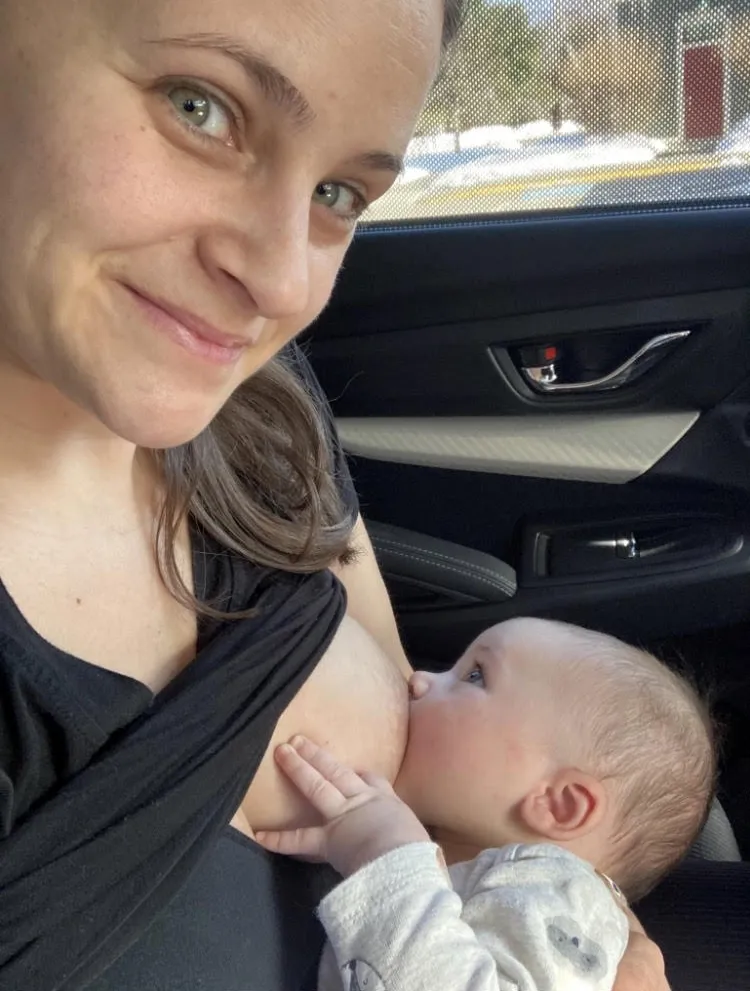 "I really wanted my last child to be the icing on the cake and, in all honesty, it was – thanks to The Thompson Method," Toni beams. "The most beautiful thing was it was all so effortless and easy. My youngest son was back up to his birth weight in no time and took nice, long (five-hour!) naps.

"Dr Robyn was like the mother-in-law or grandmother figure I had always wanted. It didn't matter that she was in Australia and I was in America, she was always in my back pocket supporting me and making me feel confident about my choices."

Toni continues: "Now, it's a no-brainer for me: any pregnant person I come across, I direct them straight to The Thompson Method! I'm like, 'Look, this is my third child and you never stop learning.' Just as every pregnancy is different, every child is different, and every experience is different. You always need to be open to learning more.

"For me, The Thompson Method is one of the best investments I have ever made in myself and my child.

"At this point, my youngest baby is 15 weeks old and thriving beyond thriving in all aspects – from nursing to weight, height and so on. With this being my third pregnancy but my first time following the program, I really attribute this to The Thompson Method.

"It took The Thompson Method for me to really feel better about breastfeeding."

Ultimately, whatever works for you and your baby is the best answer for your family. But, if you're feeling frustrated or are struggling to breastfeed, Toni's story will hopefully show that there is another way and the support you need is out there.

❤️
Ready to experience the incredible benefits of The Thompson Method for yourself and your baby? Don't wait any longer! Take the next step towards a fulfilling and effortless breastfeeding journey by joining us today.

Whether you're a first-time mom or have been through multiple pregnancies, The Thompson Method offers invaluable education with 24/7 guidance and support. Dr Robyn and her team will be there every step of the way, no matter where you are in the world.

Invest in yourself and your child's well-being. Join The Thompson Method community and discover the joy of breastfeeding without frustration. Don't miss out on this life-changing opportunity.

Click here to start your journey with The Thompson Method now and experience the difference firsthand. Your breastfeeding success awaits!